To fulfill its mission of empowering every student to unlock their potential in school, career, and life, Jurupa Unified School District (JUSD) has implemented several innovative projects and programs—among them, the flagship Jurupa Valley High School Innovation Center. Yesterday, community members and school district officials were invited to "Taste and Tour" Phase 1 of the Innovation Center. Among those who attended were Superintendent Elliott Duchon, Chief Business Official Paula Ford, Assistant Superintendent of Planning and Development Dr. Trent Hansen, Director of Information Technology Josh Lewis, Board President Robert Garcia, JUSD Board Members and representatives from KNA Engineering, Larry Kaprielian and Jim Ebrahim. This event served as an opportunity for guests to walk throughout the modernized space, engage in a conversation about STEAM learning environments, and understand how the project design fits the growing needs of Jurupa Valley High School (JVHS).
Jennifer Dubon, Associate Principal
"Nationwide, school districts are challenged with providing engaging and innovative learning environments to prepare students for a rapidly evolving workforce. The design of the Innovation Center is a response to that challenge. It is equipped with immersive technologies and industry equipment in an effort to foster collaboration, inspire curiosity and to prepare students for their future. Witnessing the students use the space, displaying their work and teaching the invitees about the equipment was energizing as well as a good reminder about the positive impacts our work can have."
When they embarked on this modernization project, the District seized it as an opportunity to build upon their existing Career Technical Education (CTE) programs. A re-imagined and modernized Innovation Center would promote these programs to students and their families externally, and also support the educators who are working hard to implement the PLTW curriculum and Project Based Learning at JVHS and across the District. Due to budget constraints, the District could not invest in building an entirely new structure to accommodate these programs; instead they elected to modernize an existing, underutilized building into a higher- tech Innovation Lab that would accommodate industry equipment, integrate the latest technology, foster collaboration, and inspire students to explore and create.
Design Approach
Home to multiple STEAM (Science, Technology, Engineering, Art, Math) Pathways, the Innovation Center has been designed to promote creativity, experimentation, and a lifelong love of learning in a state-of-the-art environment, fully equipped to support Project Based Learning (PBL) and Project Lead the Way (PLTW) curriculum.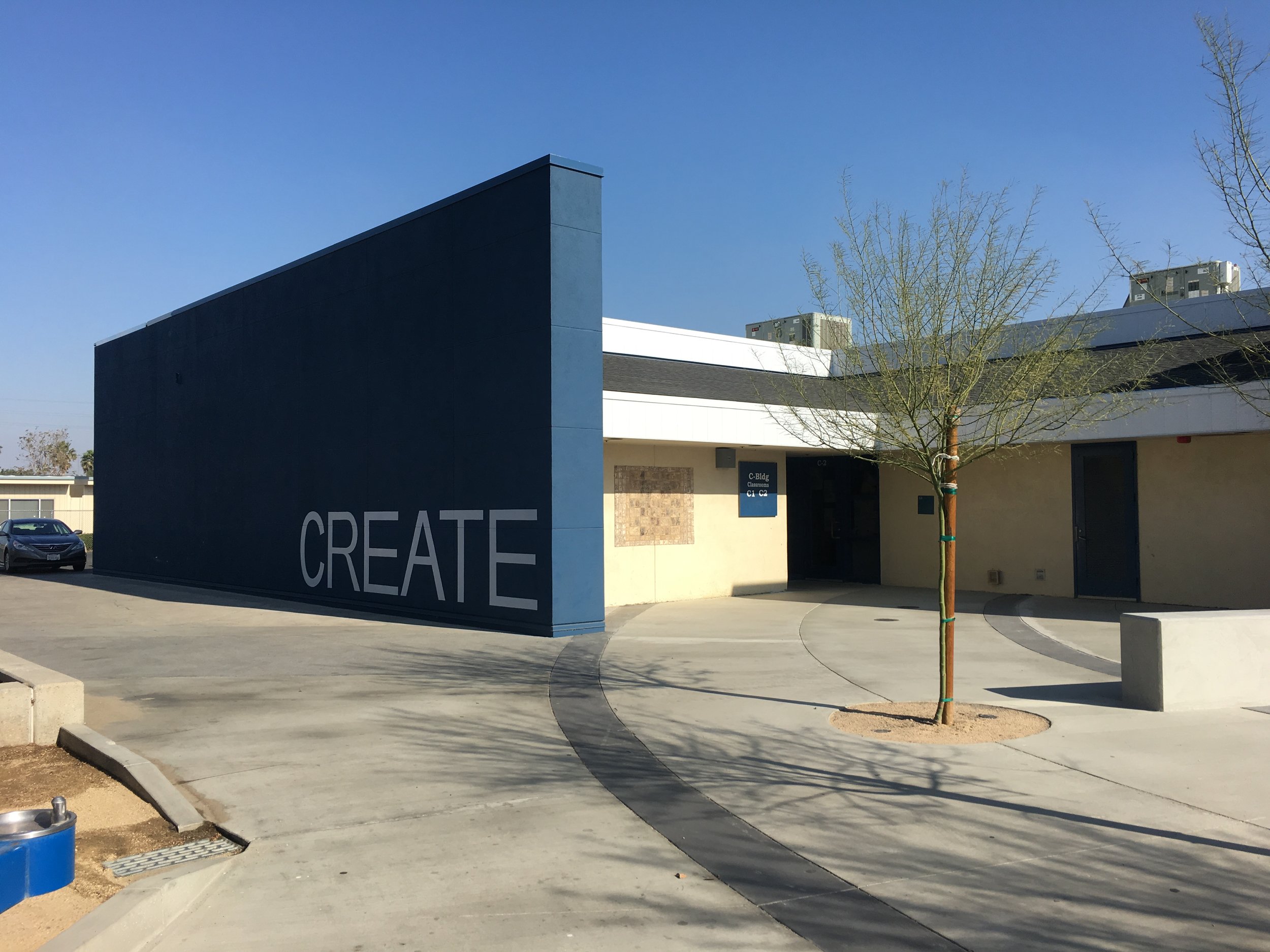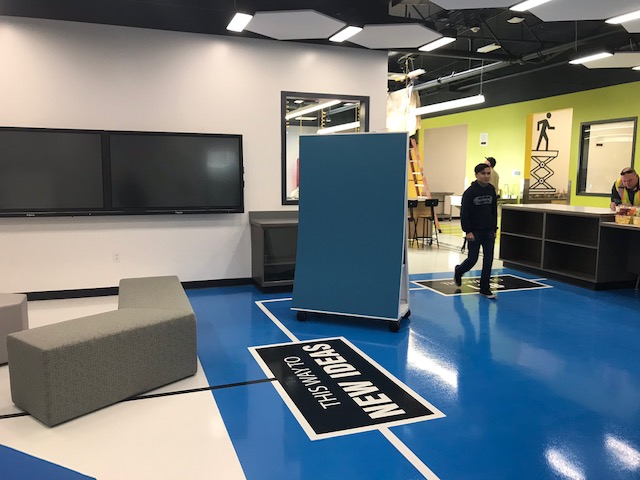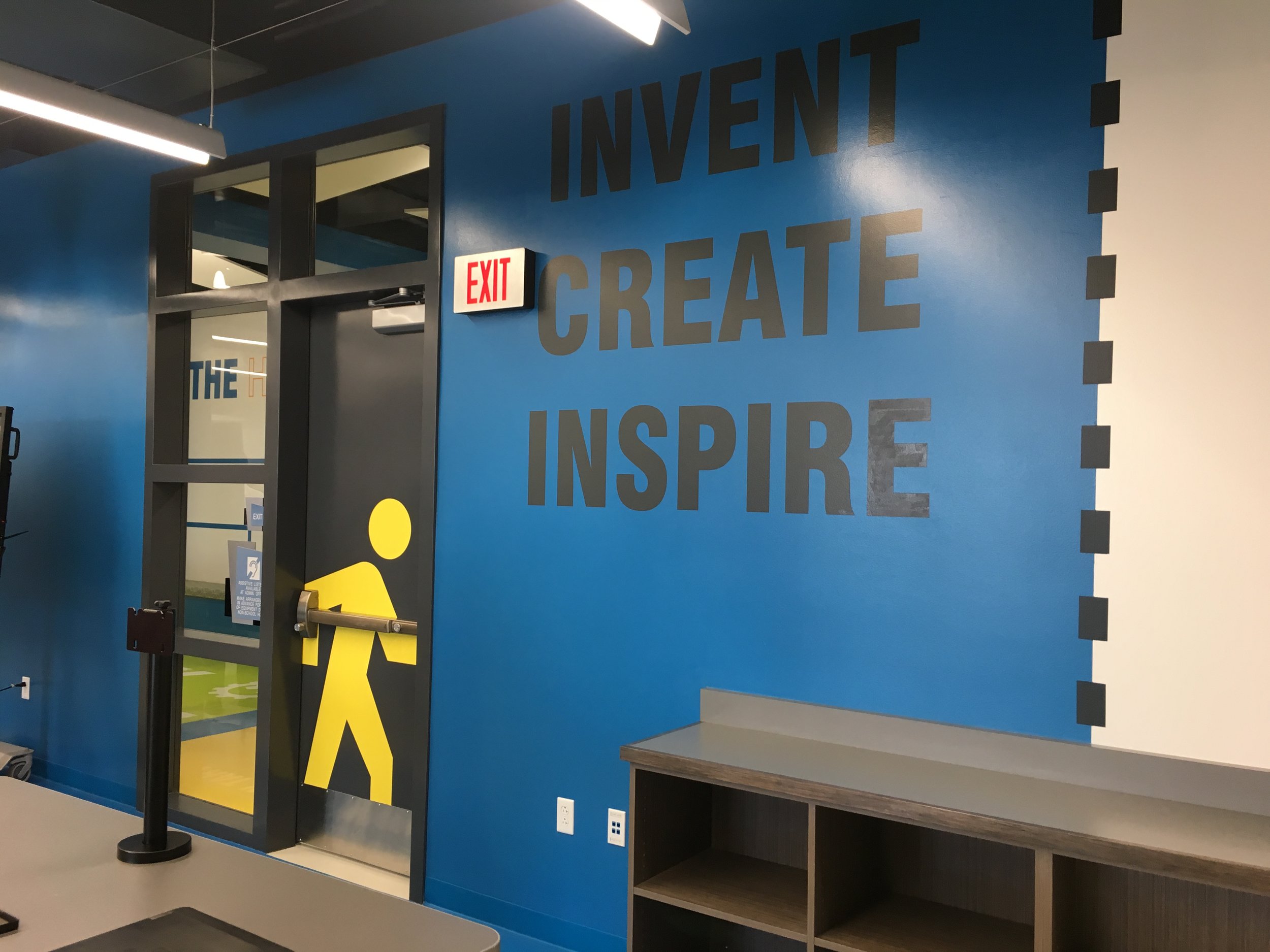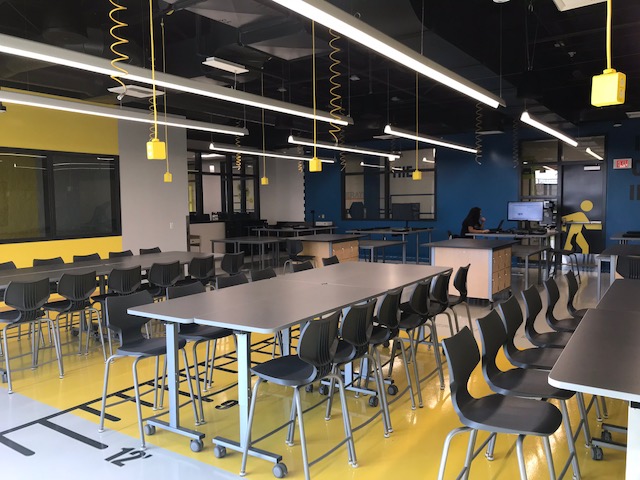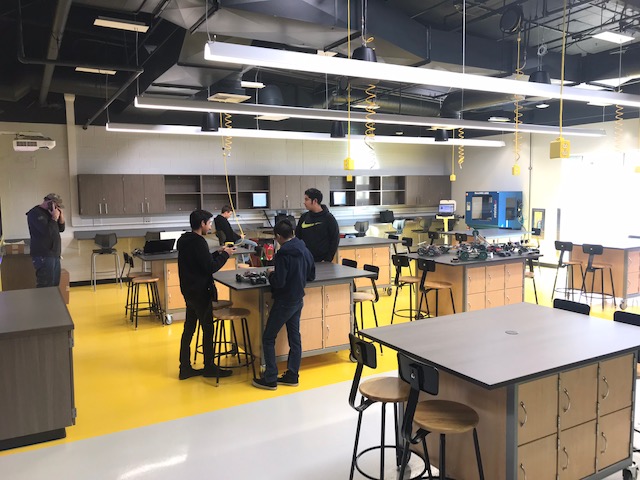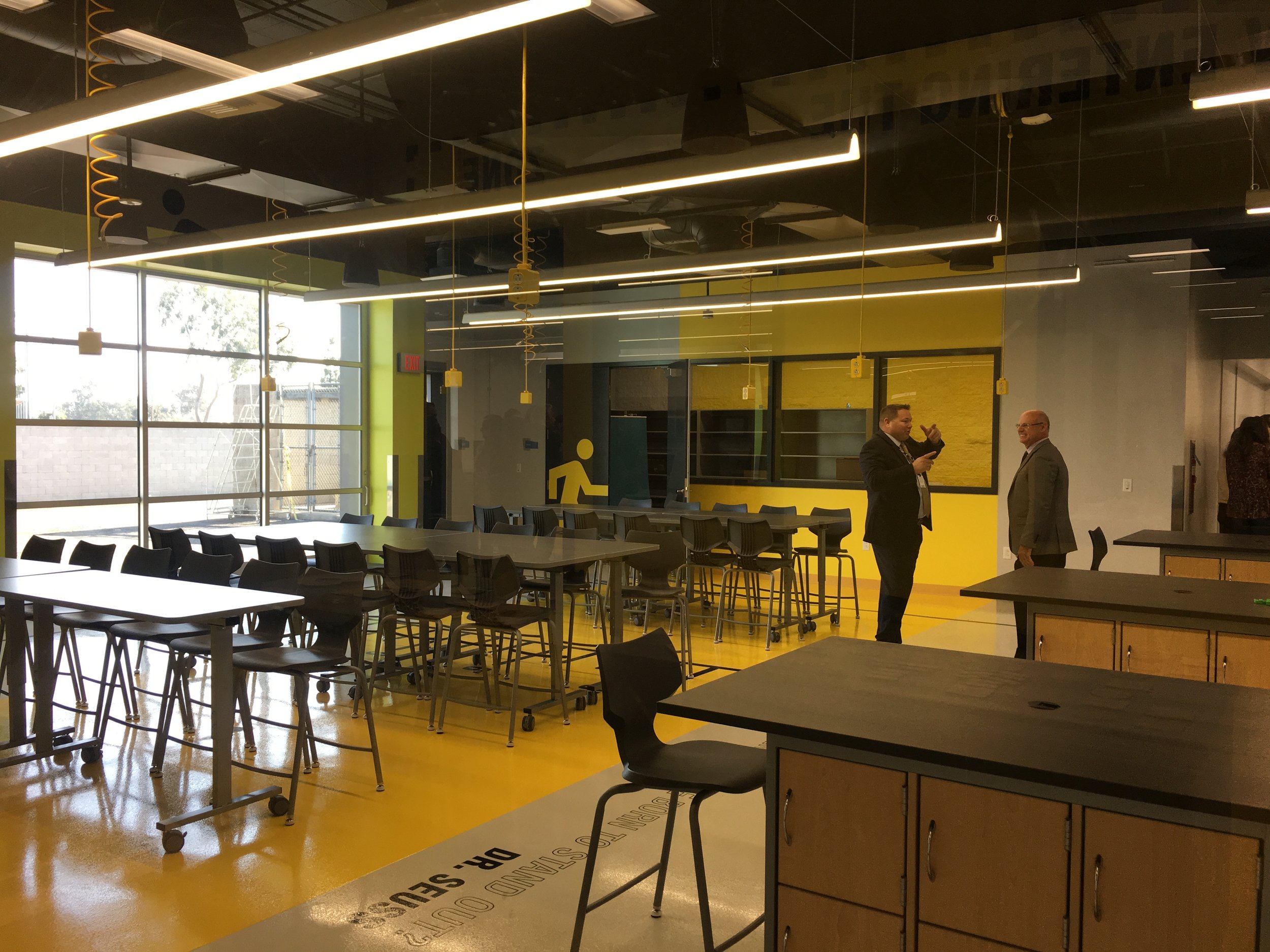 We focused on creating an inspiring, flexible environment for students to design and construct their projects. The spaces openly flow from one to another to emulate the fabrication and innovation process—beginning with ideation in the computer lab through fabrication in the laser or 3D prototyping lab. The flexibility to work on larger projects outdoors was also provided through glass sliders that lead to an enhanced outdoor work area. The Innovation Lab is meant to be a space where students are not afraid to get messy and the graphics and inspirational quotes throughout the space help to provoke bright ideas. Some wall graphics—such as the unit conversion system—also provide instructional guidance for students as they work on their projects.
Visibility between each space in the lab was also maximized to promote cross-disciplinary interaction between students. Students in the AgriScience Pathway, for example, will be visually connected to the Engineering Design spaces and vice versa. The corridor is not just a spatial connector, but also serves as an incubator of ideas between the students in multiple pathways as they move between classrooms. The design was meant to trigger curiosity and inspiration among students, in an environment where they realize the benefits of collaborating with each other as they dream, create, and build—all essential to lifelong learning.
"It was great to see the excitement on everyone's faces from the students, to teachers, to District staff. The project is already making a big impact in generating enthusiasm for the educational programs that will be housed in the building, and it's nice to be able to say that we made a substantial contribution in creating that excitement and enthusiasm."
Juan Cantoran, Senior Project Leader
"It was a joy to see what impact this project has made on the community. It was great interacting with the students, learning about the projects they are working on and seeing how excited they were with the new facility. I'm happy that through this project and its new technology, the students will be able to create even more!"
What's Next?
Construction for Phase 2 of the Innovation Center is scheduled to begin next week. The design and construction of this phase will support the Building Industry Technology Academy (BITA) and Agriculture and Natural Resources (ANR) pathways.